Petition Tag - lawyer
A full month after the arrest of freelance photojournalist Reza Entesari, there is still no news available about him. A source told the International Campaign for Human Rights in Iran that the photojournalist was arrested along with a large group of Dervishes in late August 2011 when he was photographing a gathering of Gonabadi Dervishes, and was transferred to Evin Prison's Ward 209.

According to the source, the former photography student has not had any contact with his family and has been not been allowed to see a lawyer. Several other individuals arrested with Entesari, including Alireza Roshan, Ali Karami, Mehdi Osanlou, Farzaneh Nouri, Farzad Darvish, Behzad Nouri, and Ali Astaraki, were released 3 October 2011.

Despite the completion of his interrogation, reporter and photojournalist Reza Entesari remains detained inside Evin Prison's Ward 209. "The Investigative Judge converted his temporary detention orders to bail orders. But despite completion of his interrogations, as he is unable to post the $50,000 bail, he remains in temporary detention inside Evin Prison's Security Ward 209," a source close to the case told the International Campaign for Human Rights in Iran.

"Considering Mr. Entesari is a regular reporter and is obviously unable to come up with the bail amount, we would like the judge to change the bail order to one of custodianship [where the prisoner is released to the custody of a court-approved individual], so that he is released," said the source on condition of anonymity.

Freelance photojournalist Reza Entessari, a former photography student at News University, was arrested on 5 September along with several Gonabadi Dervishes, and was transferred to Intelligence Ministry's Ward 209 at Evin Prison.
Lawyers's Gonabadi dervishes, Afshin Karam Pour transferred from Evin prison to Taleghani hospital to treat his broken leg yesterday morning on Ordibehesht 29 , 1391 ( April 17, 2012 ).

According to Majzooban reporter, Afshin Karam pour who was held in section 350 of Evin prison, his left ankle has been broken for More than three months but prison officials about his transfer to hospital were unresponsive so that he has suffered severe pain during the past three months ...

It should be noted, recently, prison officials had planned to send him to the hospital but with " handcuff " and he refused to go and described the action illegal.


افشین کرم پور از وکلای زندانی دراویش صبح امروز برای مداوای شکستگی ناحیه پا به بیمارستان طالقانی تهران منتقل شد.

به گزارش خبرنگار مجذوبان نور ؛ افشین کرم پور مدت بیش از سه ماه است که از ناحیه پا دچار آسیب شده بود اما مسئولین زندان از انتقال وی به بیمارستان اقدامی به عمل نمی آوردند. که به دلیل شدت آسیب دیدگی این درویش گنابادی سه ماه گذشته را با درد شدید سپری کرده است .

لازم به یاد آوری است که اخرین باری مامورین زندان قصد داشتند وی را برای درمان ناحیه پا به بیمارستان منتقل کنند وی به دلیل اینکه این اعزام با دسبند صورت می گرفت از رفتن به بیمارستان خودداری کرد و این اقدام را غیر قانونی توصیف کرد.
This letter will be sent to Leader of the Islamic Republic, Ayatollah Sayed 'Ali Khamenei the May 27, 2013.

You can add your signature to letter through this petition.

Sign and share widely!

Thanks!
This letter will be sent to President Barack H. Obama on June 11, 2012.

You can add your signature to letter through this petition.

Thanks to all those who decide to sign!
Zeng Hanlin is the former chairman of Guangdong Flying Dragon Group.

In Oct 1997, Guangdong Flying Dragon Group acquired 40% equity shares in Chengdu Lianyi Industrial Stock Ltd (a listed company) for a value of $68 million yuan, and in the meantime also injecting its high quality Flying Dragon High-speed Passenger shares into the listed company owned by Chengdu Lianyi Group.

End of 1999, due to the delayed payment to Chengdu Lianyi Group's for the acquisition, a simple civil dispute was transformed into a Contract Fraud case by the Chengdu police, placed Zeng Hanlin under criminal investigation, issued arrest warrant against him in just 1 week and followed by freezing of all his assets. In desperation, he borrowed HKD80,000 from a friend in Hong Kong and fled to Canada.

Since then, he was proclaimed by China mainland as "Major Economic Crimes Most Wanted" and one of China Police "Top 10 Fraud Suspects", his reputation discredited, condemned by the world and suffered reviled.

17 Feb 2011, Zeng Hanlin was repatriated, the 1st person to be forcedly repatriated by Canadian government back to China.

17 Nov 2011, given the attention by the social communities and foreign affairs department, Chengdu Intermediate People's Court started the case hearing secretly. During the trial, all outside contact was rejected; family members were being refused contact with any case information. In addition to the allowed 2 family members in the court, the rest present at the hearing are all local government officials.

During the trial, defendant's counsel defended Zeng Hanlin as Not Guilty.

Prosecutors and Defendant's Counsel hold opposite views on the fact findings made on this crime case.

Although it is a closed-door trial, there is plenty of substantial evidence to prove that Zeng Hanlin is not guilty.
The series finale of "Law and Order: Criminal Intent" will be airing Sunday, June 26, 2011. The ratings are gradually getting better. The return of Vincent D'Onofrio and Kathryn Erbe has returned "CI" to it's early glory days. We can't let the best "Law and Order" go away.

http://www.tvguide.com/News/Criminal-Intent-Series-Finale-1034516.aspx
According to the latest news received by the International Committees against Stoning and Execution, the Islamic Republic of Iran's judiciary has sentenced Mr. Kian to four consecutive death sentences! Three of these have been revoked, but the fourth, which is to be execution by the method of hanging, is to be carried out. Mr. Kian has been told that his sentence will be implemented imminently.

Mr. Kian was arrested on October 10, 2010, along with two German reporters and Mrs. Ashtiani's son, Sajjad Ghaderzadeh. He was first imprisoned in Tabriz, Iran and was later moved to section 209 of the infamous Evin Prison in Tehran, Iran. Our latest news from Mr. Kian is that he has been under prolonged and severe torture, and that his body is covered with bruises and cigarette burns. He has been transferred to the prison in Tabriz, Iran where they are planning his execution.

Mr. Kian's mother, who resides in America, is currently in Iran to help release her son; however, she has been forbidden to talk to reporters and she is not allowed to leave Iran. Her husband, Houtan's father, was executed by the Islamic Republic regime in 1981.

In a recent statement issued after the release of the two German reporters, the Islamic Republic has declared guilty and upheld the sentence for the fourth detainee, Mr. Kian.

Mr. Kian is a lawyer. He has represented prisoners who are on death row in Iran. And his most famous client is Sakineh Ashtiani.

We ask all human rights organization, at both local and international levels, as well as all groups and individuals who have been active in advocating for Sakineh's release, to urgently call upon the Iranian regime to immediately release both Houtan Kian and Sakineh Ashtiani.

(Information courtesy of International Committee Against Stoning)
The United States is currently in the worst recession since the Great Depression. With millions of American Citizens out of work, pay decreases, under pay, many hardships have befouled the American people. These hardships have caused credit to be controlled with tighter regulation.

With no fault of their own, citizens with good credit now have been forced into bankruptcy, foreclosures, late pays and repossessions of autos, aircraft, water craft, and personal items.So far in 2010 1,572,597 million bankruptcies have been filed, 1.2 million foreclosed properties, that is 1 in every 78 homes, 1.9 million cars in 2009 and 2010 is up by 8%. Even the wealthy are feeling the down turn, with high end aircraft everything from a Piper Cub airplane to 747 jumbo jets are being recovered by creditors.

Our mission is to restore the health of credit score to individual citizens and business. To promote the responsible use of credit, to facilitate economic growth within the United States of America. To use all lawful means to carry out these objectives.
Death by stoning case: Iran arrests son, lawyer, journalists
'Security forces raided ... office where an interview was taking place,' group says
10/11/2010

MSNBC

TEHRAN, Iran — The son and lawyer for a woman who could face death by stoning, along with two German journalists, were arrested in Iran as an interview was about to begin, the International Committee Against Stoning said Monday.

"The security forces raided the lawyer's office where an interview was taking place and arrested all four," the committee said in a press release. "Their whereabouts are currently unknown and no news has been received of their situation since their arrests."
Iran's official news agency did not mention the arrests of Sakineh Mohammadi Ashtiani's son, Sajjad Ghaderzadeh, and her lawyer Houtan Kian, but did say that two foreigners had been arrested Sunday.
The IRNA news agency quoted judiciary spokesman Gholam Hossein Mohseni Ejehi as saying the foreigners were arrested while interviewing the son.
Ejehi did not name the two foreigners. The report quoted him as saying the two suspects did not have documents to prove they were journalists and arrived in Iran on tourist visas.
German media reported that the two Germans, a reporter and photographer, were on assignment for the weekly Bild am Sonntag.
The committee said that "at the time of the raid, one of the journalists was on the phone speaking with Mina Ahadi, spokesperson of the International Committee against Stoning and International Committee against Execution. He had to abruptly end the call when the security forces brutally pushed their way in."

"We will make every effort to to secure the release of the four and call for increased pressure on the Islamic Republic of Iran," the committee added. "The four and Sakineh Mohammadi Ashtiani must be immediately released."

Amnesty International via AP
Sakineh Mohammadi Ashtiani
Ashtiani, 43 and the mother of two, was convicted of adultery, but Iranian officials last month temporarily suspended her execution by stoning after weeks of condemnation from around the world.
A final decision in her case has yet to be made.
Ashtiani was first convicted in May 2006 of having an "illicit relationship" with two men following the death of her husband — for which a court in Tabriz, in northwestern Iran, sentenced her to 99 lashes. Later that year she was also convicted of adultery, despite having retracted a confession which she claims was made under duress. She was sentenced to death by stoning for the adultery conviction.

Stoning was widely imposed in the years following the 1979 Islamic revolution, and even though Iran's judiciary still regularly hands down such sentences, they are often converted to other punishments. The last known stoning was carried out in 2007, although the government rarely confirms that such punishments have been meted out.
Under Islamic rulings, a man is usually buried up to his waist, while a woman is buried up to her chest with her hands also buried. Those carrying out the verdict then throw stones until the condemned dies.
On the sidelines of the U.N. General Assembly in September, Iranian President Mahmoud Ahmadinejad accused foreign media of fabricating news, saying Ashtiani had not been sentenced to death by stoning.

http://www.msnbc.msn.com/id/39615002/ns/world_news-mideastn_africa/
For years the (NCA) under the direction of the Law Society of Upper Canada has dictated to British Barristers & Solicitors in regard to the validity of a British LLB Degree in Canada and often require these British LLB graduates to go back to a Canadian Law School and then to write the NCA's in-house exams which by the way are in no way related to or sanctioned by any University in Canada.

ABOLISH THE NCA - Recognize British LLB graduates in Ontario.
On March 19th 2010 Iran's most brutal Judge Salavati confirmed the death sentence for Abdolreza Ghanbari, whose trial took place post-Ashoura Day.

Abdolreza Ghanbari's trial was unjust and illegal, as he lacked access to a lawyer and did not have an opportunity to defend himself. Ghanbari is 42-years old and a resident of the poor neighborhood of Ghiam Dasht in Varamin. He is a high school teacher and his only alleged 'crime' is his participation in the Ashoura Day gatherings and chanting slogans against Khamenei.

He was held at Ward 2 of the Islamic Passdaran Revolutionary Guards Corps' detention facility following his arrest. On 10 Bahman, without having notified his family or spoken to his lawyer, his appeared at a trial presided over by Judge Salavati and admitted to participating in the Ashoura Day protests and other acts. His 'admissions' were extracted under torture.


In August 2011, the Human Rights Activists News Agency reports that the Amnesty and Clemency Commission has rejected Ghanbari's clemency request and has sent the case to the Implementation Division. This means that his execution is now imminent.

The death penalty verdict is an ILLEGAL act, issued by Branch 15 of the Revolutionary Court was sent to Judge Zargar's Branch 36 Appeals Court instead of being sent to the Supreme Court. Judge Zargar upheld Ghanbari's death sentence.

His wife filed an appeal and requested a new hearing which was rejected. She then sent a letter to the Amnesty and Clemency Commission. One year after her request for clemency, the case has now been sent to the sentence Implementation Division.

Please sign this petition, and pass it to Human Rights organisations and politicians to put pressure on the Iranian regime to release this innocent man.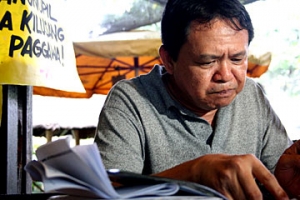 Atty. Remigio Saladero, Jr. is a labor lawyer for the Pro-Labor Legal Assistance Center (PLACE), a founding member of the National Union of People's Lawyers, regular columnist of the newspaper Pinoy Weekly, a San Beda law graduate, member of the Free Legal Assistance Group (FLAG), and chief legal counsel of the Kilusang Mayo Uno (KMU). He was one of the top 20 board passers when he took the bar examination in 1984.
But on October 23, 2008, Atty. Saladero was reported missing. He was forcibly taken into custody; his mobile phone, a computer CPU, and a laptop was nabbed. He was charged with multiple murder and multiple frustrated murder which took place in Mindoro. (Saladero was also falsely charged with arson and conspiracy to commit rebellion together with 18 other activists for allegedly having been involved in burning a cell site of a telecommunication company in Lemery, Batangas last August 2, 2008) And then he was imprisoned in Calapan City, Mindoro Oriental (at the provincial jail). However, Atty. Saladero has already been surfaced.
Atty. Saladero, together with his wife Maricel, has never been to Mindoro prior to his disappearance, and they never went to that cellsite which was allegedly burned last August 2.
Atty. Saladero is a law-abiding citizen, showing concern for our countrymen, especially the poor. He has been a columnist of Pinoy Weekly since 2002, submitting his articles through fax and recently, through electronic mail, his column titled "Husgahan Natin." He is respected by many Filipinos, especially trade unions.
We act as if our families were the only inhabitants of our country. We even pretend that we (and our ancestors) have solved the current issues of our country during the greatest moments of our lives, only to think more of our futures. Are we still afraid of communists taking over the world? Are we still afraid of weapons of mass destruction? Why fear and believe in the prejudicial assumption that all labor lawyers are linked to rebel groups? What is going on with our country??
How can we be Good Samaritans if we can show concern for only our family and friends? Is the progress of our country vested only in a few persons? We might be on the verge of inciting war against our foreign neighbors! We don't want that to happen to our descendants!! We don't want ourselves and our descendants to be called as mindless cowards! We know how extremely serious this situation is.
I would rather sacrifice my life to protect the rights of my countrymen (especially women and migrant workers) rather than just ignoring them! Because the current condition of our country affects our futures as well!! So show concern for human rights, or expect another Holocaust to happen.
In June 2006, it was reported that three men at Guantanamo Bay were found
dead in their cells from apparent suicides. This action was described by the
camp commander as "asymmetrical warfare," and an attempt to gain public
sympathy. However, FBI reports indicate that inmates have been subjected to
cruel and inhumane conditions while at Guantanamo Bay. Furthermore, their
state of indefinite detention, while being stripped of the writ of Habeas Corpus,
leaves them without recourse to any judicial process to challenge their
detention.

Bahraini national Jumah al-Dossari has been at the camp for over five years. He
claims he has been tortured in custody. This has included beatings and death
threats, prolonged isolation, exposure to extreme cold, and sexual assaults.

Amnesty International published a handwritten account by Jumah Al-Dossari in
2005, where he described "the revolting torture and those vile attacks which
were a humiliation and will continue to be a vile stain on history, memories that
whenever I look back on them, I wonder how my soft heart could bear them,
how my body could bear the pain of the torture and how my mind could bear all
that stress. How I wish my memories and my thoughts could be forgotten…"

Read Jumah Al-Dossari's full account of his imprisonment here.

On 15 October 2005, Jumah al-Dossari attempted to hang himself after going
into the toilet during an interview with his lawyer. In November 2005 he told
his lawyer that he had wanted to kill himself so that he could send a message to
the world that the conditions at Guantánamo are intolerable. He added that he
had tried to do it in a public way so that the military could not cover it up and
his death would not be anonymous. This suicide attempt left him with a broken
vertebra and fourteen stitches in his right arm.

Al-Dossari writes of feeling hopeless, of awakening screaming due to flashbacks
and nightmares, and fearing that he is losing his mind--all of which are
indicators of severe trauma. He attempted suicide again in March 2006 for
what is believed to be the 12th time.

He is currently in a state of indefinite detention, and no plans either to bring
him to trial or release him have been indicated. Several detainees have already
been released or repatriated for trial due to individual campaigns. The following
petition is an attempt to alleviate his situation and urge authorities to afford
him the basic rights that are required for detainees everywhere, in war or in
peace, under the provisions of international law.
Petition against the Parole Board Michigan and the Parr Highway Correctional Facility Michigan.

Friends and fans of Gregory-John Mc Cormick (Itchy), his band Shock Therapy, fans of Wave, Gothik, Metal, EBM, Punk, Industrial, and music fans in general, I would like to draw your attention to a dreadful situation.

Itchy, head of the band Shock Therapy (best well-known album/single "hate" is (just) a four letter word), is locked up in a Michigan prison for the past 4 years. For the past 20 years Itchy lived most of the time in Europe. At the beginning of year 2000 he was visiting his native America.

After he visited Keith Jackson in Phönix (guitar player and one of the founder of Shock Therapy), he went to Michigan, to visit his father, an old granny, which is like a mother to him, and his brother. Some days, after arriving in Michigan Itchy came back to his father´s house and found the old granny raped and robbed by a drug dealer in here house. The drugdealer beat her hard and broke her arm, before he robbed her. Itchy called the police, because he knew the perpetrator, and he could make help them locate this person who lived in the neighbourhood. But the police were totally disinterested in this case and did nothing. Itchy was pissed off and despaired. Itchy´s relationship with this old Lady was always very familiar and she cared much about him, especially since his natural mother died from cancer 9 years ago. That old Lady looked at Itchys house, when he was on tour, and she cared about his dog and much more. Often people from the neighbourhood broke into Itchys house and stole away his music-equipment. Itchy called to the house of the drug dealer when he was drunk intending to talk to him but the drug dealer was not at home. As a small warning Itchy burned down a tiny pile of trash at the back of the drug dealer's garage-shed. The police arrested him for this.

What would you do, or how would you react in his situation? Just imagine, someone did the same to your father or to your mother. By the way…no life was harmed in this tiny fire because he knew that the drug dealer was not at home ( or at least he did not shows up at the door, after Itchy rang the bell!). Anyway, the drug dealer died 2 weeks later from an overdose.

Since that day Itchy is imprisoned under very bad circumstances . For a comparable crime one would get half a year, or maximum one year, in a German prison. More likely than that one would just receive probation. The Parole Board, which decides once in a year about the prisoner releases and the Parr Highway Correctional Facility, want to keep Itchy in as long as possible. The Parole Board told Itchy´s father lately, they plan to keep him in for the next years.

Itchy shits and pukes blood now every morning for the past year. His guts and his stomach hurt, he has strange blisters all over his skin, one of his eyes is blood red for weeks. He has constant Migraine headaches, nightmares every night, and strong depressions. He suffer from rheumatic fever since one year, and this poisoned his blood. Itchy and I have written to each other for 3 ½ years, often 3-4 big letters a month. I´m his closest friend and he calls me his real "brother". Thus I know all about him and his condition. Itchy is really very ill and he may not remain alive more than another six month. He often writes to me about his thoughts of suicide if his situation will not change for the better.

Itchy is well-known as a hard boiled Elektropunk-musician, but this is just one of his images, he plays for his fans. I know Itchy as the best friend anyone can have, very broad minded, success oriented, and someone who gives his best for a friend and who is always willing to help. Now he remains imprisoned for this crime, for which he has repented several times over for far too long.

I would like to state some other reasons why he should be free a long time ago:

1. Itchy has lived his life mainly in Europe, and after his release from prison he plans to leave the USA forever and he would never return there.

2. As I have already written Itchy has been jailed for too long for this crime. This is also what the lawyer Mr Gary Margosian from Michigan told us. Even this good lawyer could not do anything against the judgements of the Parole Board.

3. Each prisoner held longer than necessary in prison costs lots of money for each hard working American taxpayer. Since Itchy plans to leave the USA forever this is a negligent waste of tax money.

Instead of this the Parole Board could sanction Itchy´s release + immediate expulsion, also through the decision of Jennifer Granholm, Governeur in Michigan. All this is an unjust, senseless and overstated sadistic behaviour on the part of the Parole Board and the Parr Highway Correctional Facility which, in my opinion, is not behaving accordingly with the American sense of fairness.

Itchy has about 100 new song ideas, 3 books are in progress, I sell his paintings to earn money for a lawyer and to pay for his dinner in prison. Since the prison serves old and rotten food to the prisoners I must supply Itchy with necessary requirements. Itchy became as ill as he is now, from the grief, his depression and from his meals in prison. Actually he should be free for the reason he is unsuitable to be detained because of his bad shape, but the Parole Board and the Parr Highway Correctional Facility probably want kill him. Each consultation at the prison doctor costs Itchy 5 dollars and he can´t trust the doctor in prison anyway. Some prisoners have already died after a normal routine check up and they use the ill prisoners as subjects for unregistered medicine. Itchy can´t expect protection from these doctors since he cannot trust them.

The signatures collected will go to a very good Attorney in Michigan, to the mechanism I mentioned (Governeur Jennifer Granholm, Parole Board and Parr Highway Correctional Facility), and to most well-known magazines in Europe and America, to appeal to the sanity of the decision makers.

I've informed Amnesty International London and America, and ACLU Michigan about Itchy´s case and they won´t help us. They told us, they have not enough time for our case, and we shall hire a lawyer, but we have no money to do that. Not one Cent!

Itchy is the best friend one can have and his long suffered incarceration is inhuman and inappropriate. Please support his release from prison.

Captain Ralf Dellhofen
25. September 2004

Itchy´s address in prison is:

Gregory-John Mc Cormick 34 70 89
Parr Highway Correctional Facility
27 27 E. Beecher St. / P.O. Box 18 88
Adrian, Michigan 49221
U. S. A.
April 9, 2001

John Maloney was wrongfully convicted of killing his wife in 1999. There is compelling evidence that her death was accidental and no crime was committed in the first place. Unfortunately, neither the jury nor the judge heard this evidence.

John Maloney's lawyer had a movie deal in his pocket, so he deliberately ignored and suppressed this evidence in order to follow the script of the movie.

John Maloney sits in prison to promote the careers of the prosecutor and his own lawyer. This petition will be used for two purposes: to gain public support over the Internet and elsewhere, and to specifically request the same judge who sentenced him--and who was denied full information--to give him a new trial. John Maloney and everyone else that believes in him, wants his name cleared of this mockery of justice.

Please read the facts at http://johnmaloney.org and sign this petition to show your support. And always remember "An INJUSTICE anywhere, is a threat to JUSTICE everywhere!" We hope to put a stop to injustice in Green Bay, Wisconsin and throughout the country.